Welcome to the Potters Bar and District Historical Society
The first meeting of the new season is on Tuesday 19th September 2017 and is entitled 'Hertfordshire Literary Connections'. Venue is the Sixty Plus room at Wyllyotts starting at 8pm. Members free, visitors £1.
Story of Potters Bar and South Mimms
This is a new website dedicated to the local history of Potters Bar, Hertfordshire and the surrounding villages.
The Society has recently expanded its area of interest following the closure of the North Mymms Historical Society.
Within the website you will find details of the museum, publications and our programme of talks.
Please feel free to contact us with any queries, comments, information or resources.
March 2017 - The site will be updated shortly. I am currently finalising data entry for a Potters Bar and district database containing some 30,000 records of census, school, baptism, marriage and burial information mainly between 1841 and 1911.
The 2016 - 2017 programme is now available.
Parkfield School
After consulting the school logs, here is a short paper on the opennig of Parkfield School in August 1938. Additional information very welcome.
Free Zeppelin Commemoration Event October 1st 2016.
The event will be held in Oakmere Park, Potters Bar (EN6 5BT) from 10.30am. Included will be a fly-past by a replica BE2c, the aircraft flown by 2nd Lt Wulstan Tempest who brought down the Zeppelin on that fateful night 100 years ago. There will also be a talk on the Zeppelin Campaign, a documentary film showing, music from the 1372 Elstree and Borehamwood Squadron Air Cadet Band, re-enactors, museum exhibits and many other related activities. For further information about the walk, contact Clive at: clivehammersley@hotmail.co.uk.
Clive Hammersley from The Battlefield Trust will be leading a walk looking at the dramatic events of the night of the 1st - 2nd October 1916. The walk will be just over 1 mile and will last for approximately 2 hours.
It is free for Battlefield Trust members, however, anyone is welcome but they charge £5 for non-members. There are two walks both covering the same event. The Wednesday 28th walk starts at 2.30pm outside the Old Manor Pub in Potters Bar and returns to the pub at the end of the walk. The starting time on the 1st October is 11:00, also meeting outside the Old Manor Pub. The walks cover the Zeppelin L31's final flight and its downing over Potters Bar by Lt Wulstan Tempest. It will also explain the Potters Bar of 1916 and airship warfare in general.
For further information about the walk, contact Clive at: clivehammersley@hotmail.co.uk.
***NEW***
I have typed up the unedited St John's Infant School Log for the start of World War II to the end of 1940 with more to follow. Some of it is very routine but is included for the sake of completeness. Any comments are welcome.
Cedric Gilson has written an account of St Giles C of E school from 1945 - 1951. We would be pleased to receive further pieces.
The 'Story of Potters Bar and South Mimms' is now 50 years old and in desperate need of a rewrite to bring it up to date. We have a vision of producing a much more comprehensive edition with colour photographs. However, as the first edition was written by a team of people we would appreciate help in researching various topics. if you would like to help please contact us.
CAN YOU HELP? One of our members is working on a project with a working title of 'Potters Bar Memories'. Please contact us through the link above if you would like to make a contribution. We are especially interested in World War II memories from anyone in our area for a forthcoming publication.
Battle of Barnet
Can You Help?
The Battle of Barnet took place on the foggy morning of 14th April 1471 between the House of York and the House of Lancaster. It lasted some two to three hours and by the time the mist had cleared the King, Edward IV, had beaten the Lancastrians under the Earl of Warwick.
The exact site of the battle has been open to conjecture, with Hadley Highstone being the most likely contender, hence the monument there. In recent years however other sites have been proposed, including one further north. A two-year project has now been instigated under the auspices of the University of Huddersfield which had successfully discovered the actual site of the Battle of Bosworth, where Richard III was killed.
The project will consist of a proper archaeological Battlefield Survey with the fieldwork due to commence later this year. This will be supported by a number of community groups.
Activities over the next two years.
Volunteers are welcome and people with the following skills are welcome: Painting / Drawing; Sewing / Embroidery; Costume making; Children's activities; Actors for audio recording; Web design, Filming / recording; Research; Field Walking (with archaeologists); guided tours and the cleaning, registering and conserving of finds.
This sounds like a fascinating project and if you have any of the above skills and would like to help, please contact Barnet Museum, 31Wood Street, Barnet, EN5 4BE phone 020 8440 8066 or email enquiries@barnetmuseum.co.uk.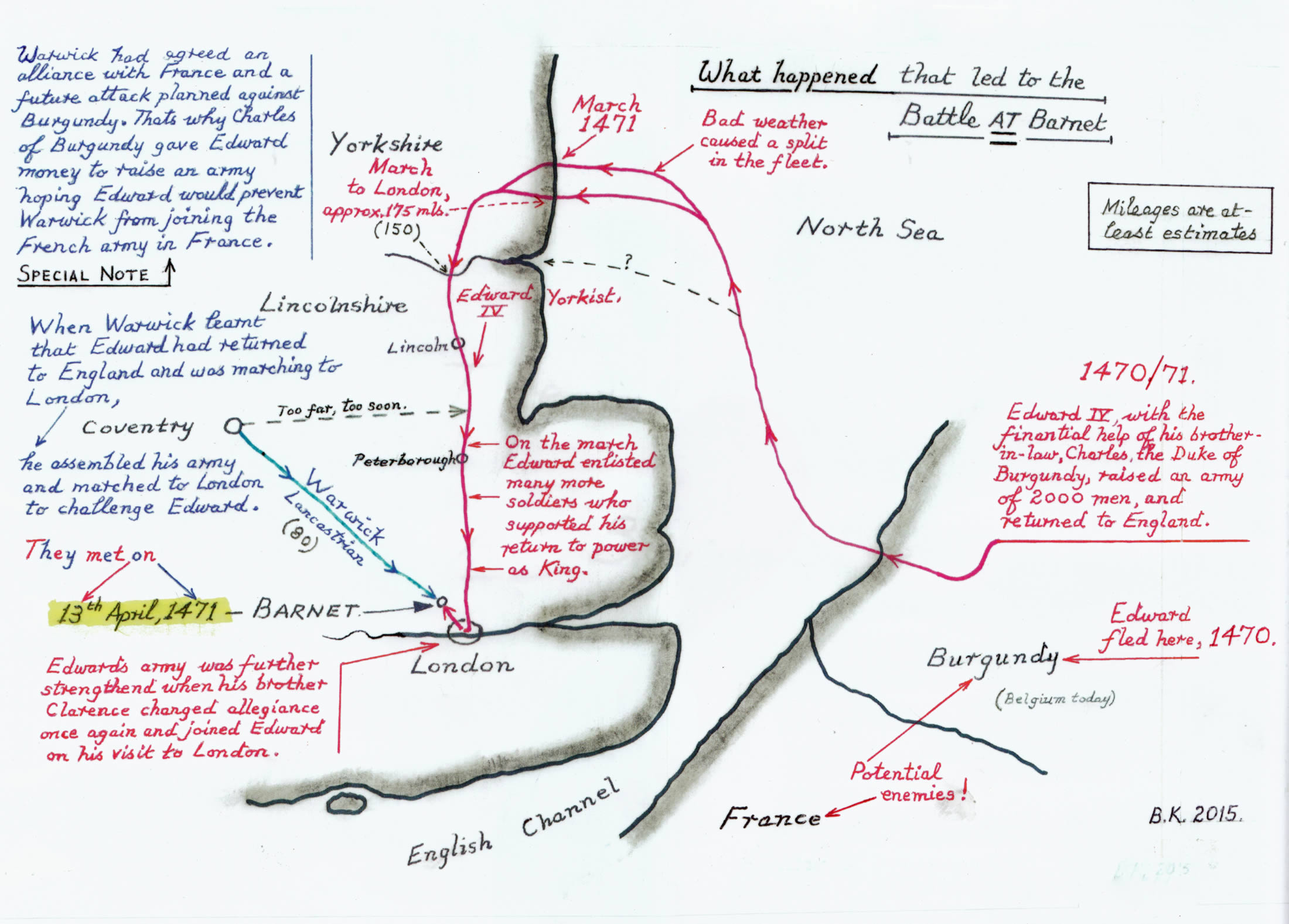 Brian Kolbert has produced this diagram encapsulating some of the vital aspects leading up to the battle.
New publication
Brian Warren has recently written three articles concerning South Mimms and these have become Journal 13. The sections included are:
Surviving 16th century stained glass windows at St Giles, South Mimms
The Quakers at South Mimms
Queen Wilhelmina at the Grange, South Mimms in 1944
The price of this Journal is £2 from the Potters Bar Museum. It is also available at the Health Food Shop in Darkes Lane and the Post Office in the High Street. For postal purchases please contact us via the link above.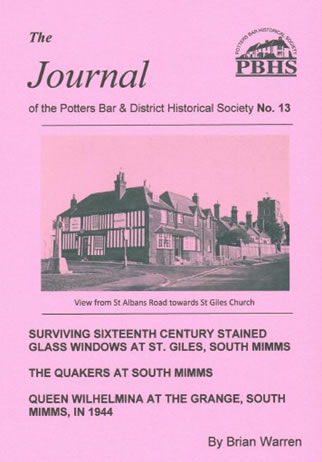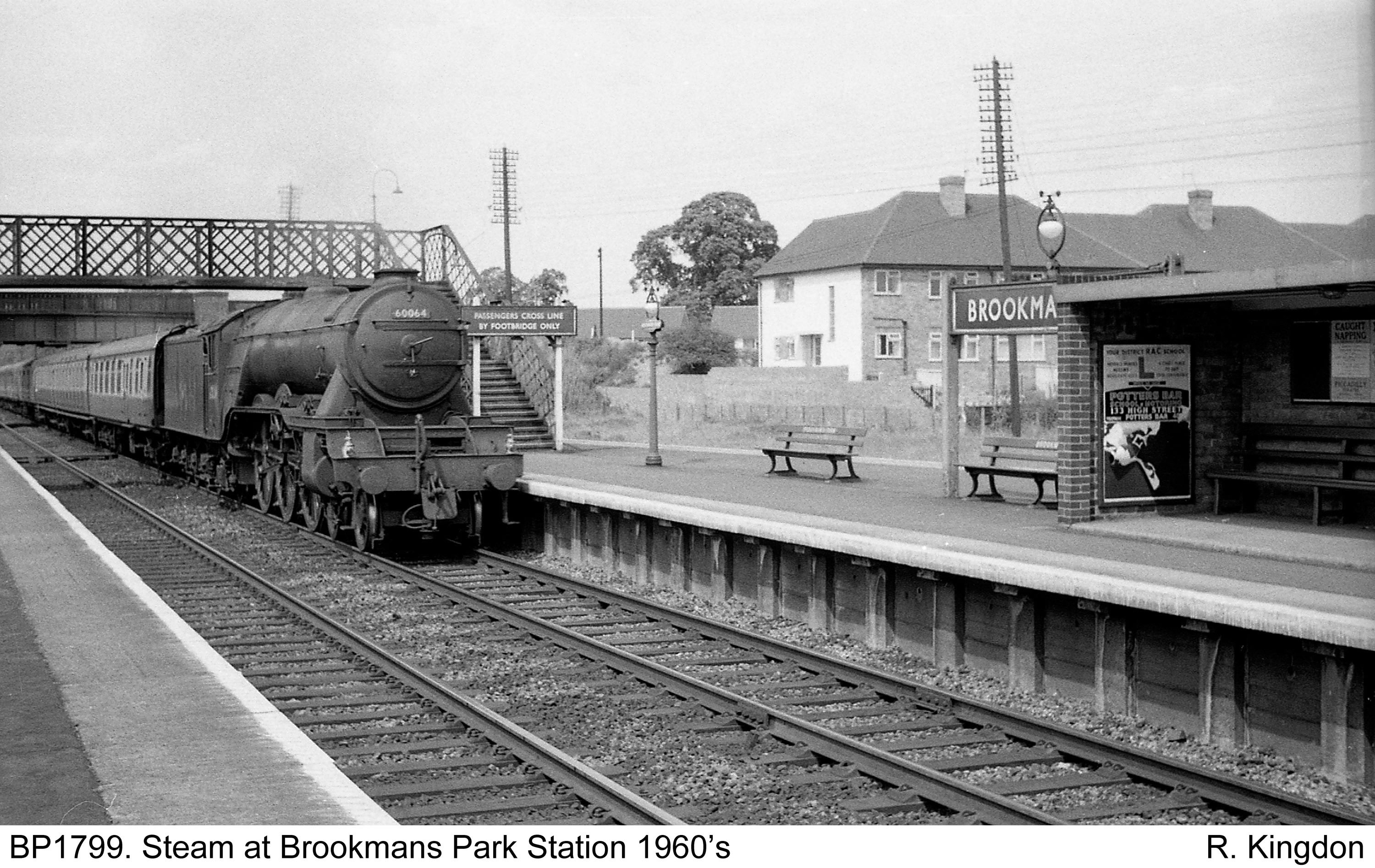 We received an e-mail from Margaret Wright in Canberra, Australia today (23rd November).
"I was interested to read the article in the Brookmans Park newsletter about the zeppelin that was shot down over Potters Bar. It was sent to me by my cousin in Watford".

"I have a piece of that zeppelin, the L-31, and the last time I was in England we spent an enjoyable time tracing the sites associated with it. The house is now a restaurant, and a street is named after Tempest. Sadly, the Zeppelin Oak was chopped down in the 1930s because residents of the new housing area felt it was dangerous.
Now there are no signs of the fact that such a momentous thing happened. I think the house should have a plaque on it. All memory is basically lost, so your article is timely. My great uncles lived in Potters Bar and rode on their motor bike with a hacksaw to chop off some of the duralum frame that was exposed when the fire ripped through the outer shell, and obviously before the police cordon was put around the large wreck site.
My great uncles gave a long piece to their brother, my grandfather, who later brought it to Australia when he and their 6 daughters emigrated to Sydney in 1922".

"Over the years bits were cut off and given to school museums, and I have the last piece. It shows the rivets. It is in a small box with my grandmother's hand-written label: Piece of zeppelin shot down at Potters Bar, First World War".

"I have compiled a folder of pictures and information about zeppelins in general and the L-31 in particular, using information from the Potters Bar and District Historical Society, among other sources".

Local history is more than the buildings and the roads, it could be argued that it is really about the people. We have some accounts that are invaluable. This piece is about Minnie Logan (nee Harris) born in 1889, lived in Osborne Cottages and married at Christ Church Little Heath. We have enhanced the original article with some documentary evidence. It is written in the vernacular and has not been corrected!
Rose Simmonds, born in 1899, grew up in Welham Green leaving when she was ten. In this piece Rose looks back on her return in 1961.
Water End is an interesting spot that once boasted two pubs and a school. This article by John Dean from 2005 tells us more about the area including balloons in Welham Green.
This website is not just about ancient(!) history. Mike Allen has supplied this business directory from 1965. I'm sure it will bring back memories and you are welcome to send them in. Whilst talking about more recent history, we'd be pleased to receive an article or two on the Potters Bar train crashes.
A fascinating piece has been received from Mike Allen and it concerns Eleanor Vyse written in the 1970s. It's a wonderful piece of social history.
Janet Reid is conducting some research into the origins of the Square in Heath Drive, Potters Bar. Can you assist?
Joan Gooding is investigating the origins of the former Little Heath Wood House. Can you assist?
A now defunct website contained some interesting pieces and these will be incorporated in to the site. The first is on our origins. The second is about Middlesex.
Electoral registers are now available on findmypast. We've been looking at the local registers for the period between 1901 and 1911. We start our investigation and analysis here.
"Treasures from the Hertfordshire Archives with some mention of Potters Bar" - Thursday 15th October 2015.
Marion Hill, Learning & Access Officer from Hertfordshire Archives and Local Studies [HALS], gave an entertaining and informative talk about Hertfordshire's past and its people along with a glimpse into the Archives which has over 3,000,000 documents dating from 1060 to the present day. She was most enthusiastic that the Society's members should visit: no appointment is necessary. Indexes & catalogues can be searched on line at http://www.hertsdirect.org/services/leisculture/heritage1/hals/indexes/
What do you know about our local rivers? This article from 1966 may help to enlighten you!
Churchyards are fascinating places for local historians - and a source of interest for the general public. Sadly, the most interesting area of St Mary's cemetary in Mutton Lane is in a poor condition but happily St Mary's North Mymms is well maintained. This article from 1969 discusses some of the interesting headstones there.
Some more local memories, published in 1975 and relating to North Mymms.
One interesting feature of our area are the coalposts. Another is how road names were, well, named!
Chris Cook
13th December 2015.